Remote Transformer Monitoring
Remote Transformer Monitoring
Agenda
Overview
Value proposition
Architecture
Parameters Monitored
Gateway & Sensor info
Application Functionalities
POC Deployment Dependencies

Overview
Distribution Transformer Monitoring Solution various aspects of the Distribution Transformer. Various parameters like Oil Level and Temperature and some alerts are enabled within the base station.
The solution provides accurate supervision of the transformer and its environment and converts each simple transformer into an intelligent unit with continuous view of asset conditions, operating efficiencies and immediate notifications and alerts.
Reliance infra can effectively cut down maintenance costs and can remotely monitor the Transformer with descriptive analysis of failures.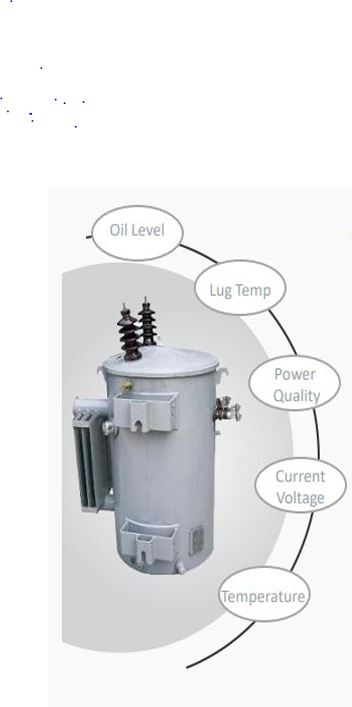 Value proposition
Value proposition
Non Invasive Retrofit solution
Power quality inputs – power factor
Data logging facility
Modbus port to connect to smart meters
Modular wireless connectivity
Business Values
Monitor the health of transformer
Preventive maintenance
Capital expense planning
Vision of power losses

Architecture
Features & Parameters monitored
Industrial Grade Module
Industrial Standard Wired Interfaces
Wireless Communication to Cloud
GSM -2G Connectivity
Upgradeable to 3G/4G/Wi-fi/
Monitoring
Energy Consumption through meters
Oil Level Oil Temperature
Palm Temperature
Real Time Notification and Alerts
Gateway and Sensors
Gateway with GSM Communication
ARM Cortex Controller
2G Communication & Antenna
8MB Flash
HTTP/MQTT Comm.
MODBUS Inputs
AC-DC Power Adaptor
Power Source – 230V to 9V
Sensors
Oil Level Sensor
Oil Temperature
Lug Temperature
Application Functionalities
1.Transformer Monitoring
Avoid Unplanned failures, Lower Maintenance cost and Extend Transformer
1.Display Transformer position on the Dashboard with Transformer ID & Location
2.Connect to Energy Meters Installed on the Transformer and send data such as Voltage,Current & Load
3.Send Oil level indication of the Transformer.
4.Send SMS Alerts, if Oil level is low in the Transformer.
5.History parameters such as Load, voltage & current, Oil & Palm Temp for each transformer should be maintaine
6.Palm (Lug) temp and oil temp indication of the transformer
7.Send SMS alert, if oil temp or Palm temp of transformer is crossing the set value.
Application Functionalities
2.Transformer Dashborad & Reports
1.Display Transformers on the Dashboard along with id & loction
2.Display Trending Analysis of Transformer Temperature oil and paim(lug)
3.Display Trending Analysis of load in KW of the Transformer.this analysis can be onn live feed or Historical data
4.Display Alerts generated for the Transformer.
3.General System Requirements
1.Register Transformer and Device.
2.Application should be Web based and mobile friendlly
3.Option for Alerts SMS Enable/Disable(Disable-will not generate the alarm)
4.Auto generates SMS for all alerts on event occurrence.
5.Set values for level and temperatures alerts would be configurable not hard coded.
Application Functionalities
4.Alerts
Application should display alert in case any theshold for any parameter is breached by transformer on dashbord.The alert data should be sent by the gateway
The alert would have following fields
1.Transformer ID
2.Transformer location
3.Current oil level(Any parameter)
4.Alert Type.
5.Threshold breach by
6.Alert Timestamp)

Application Screen Shots
1.Login panel

Application Screen Shots
2.Summary

Application Screen Shots
3.Paraneter monitoring

Application Screen Shots
4.SMS Alerts